---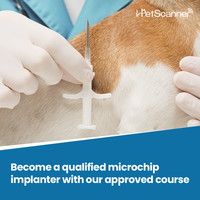 Microchip Implanter Training Course
Become a qualified microchip implanter
Our DEFRA approved implanter training course costs just £148 total (£49 theory, £99 practical) and is perfect for anyone wanting to start their own pet related business or if you are a breeder that wants to microchip your own dogs to comply with the latest legislation. We are pleased to provide all trainees with the following:
Fully UK DEFRA-approved microchip implanter training

Practical procedures and theory training

FREE microchips for every registration with PetScanner

Training Manual

Ongoing support should you need it after training

Certificate awarded on completion
Theory
Once the initial £49 has been paid, you will be given access to the theory section of the implanter training course and will be able to download our implanter training manual and theory assessment questions. with the implanter training manual and theory assessment questions. You will need to read through the course materials and answer the theory assessment questions to the best of your ability. Once you have answered the questions, you will need to upload the answers in your account section of our website. You will then be ready to move on to the practical/assessment section of the course.

Practical/Assessment
Once you have completed the theory assessment questions and uploaded them, you will need to pay the remaining £99 to arrange a practical/assessment session with our instructor. Once the balance has been paid, our instructor will contact you to arrange a date/time for them to come to you. Our instructor will also go through the theory questions with you to ensure that your knowledge and understanding is correct before proceeding with the practical/assessment. You will need three unchipped companion animals for this section. If you would like to be legally certified to microchip dogs, at least one of them will need to be a dog.

During the practical section, our instructor will teach you how to assess, handle and microchip companion animals successfully using one of the three animals you provide. This will end with an assessment exam where you will use all that you have learned during the course to implant two animals with microchips while our instructor observes and assesses to ensure you are competent to implant companion animals. If for any reason you do fail the practical/assessment section of the course, you will need to pay another £99 to retake this section. On successful completion of the practical/assessment section of the course, you will be awarded with a certificate of competency to implant companion animals.

Requirements
It is important that you note the following requirements before proceeding:

You will need a PetScanner account to download the course materials and upload it back to us. 
You will need at least three unchipped companion animals in order to take the practical/assessment section of the course. You may be able to find these by contacting a local breeder or rescue centre.
You will need a clean, safe and quiet environment for the practical/assessment section of the course. A stable surface/table will be required for the animals to be placed on for examination, handling and implantation for the practical/assessment section of the course. It is imperative that the surface is suitable for being sterilised and wiped down between animals as there are certain hygienic requirements when implanting animals.
For the practical/assessment section, you will need at least 10 microchips and an ISO-compliant RFID microchip scanner capable of reading FDX-B microchips. If you are unsure about this, the

 

PetScanner Implanter Starter Pack

 

contains everything you will need!
By purchasing this product, you agree to have read and understood all of the above, including the requirements sections and know what is needed to proceed. You understand and agree that the £49 payment is non-refundable and is for the theory side of the implanter course only and that a further £99 will be due at a later date for the practical/assessment side of the course.