---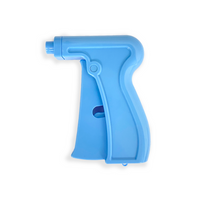 Microchip Implant Gun
***Certificated implanters/PetScanner Implanter Course Students only***
PLEASE NOTE: If you are a new microchip customer, you will be asked to supply PetScanner with proof of certification as a microchip implanter. If you are unable to supply us with sufficient supporting documentation of your certification as a microchip implanter, we will be unable to provide you with microchips and your order will be cancelled. Alternatively, if you are in the process of taking the PetScanner Implanter Training Course, you will need to be at the practical stage with the full balance paid before proceeding with ordering this item.  

Pet Microchip Implant Gun for use with any size needle PetScanner microchips. The PetScanner Implant Gun, unlike others, has a metal rod in place used to push the microchip. Due to it being metal over plastic, our implant gun is more durable and lasts much longer than the plastic implant gun. 

Sold individually or free when purchased with 20 Mini Microchips.